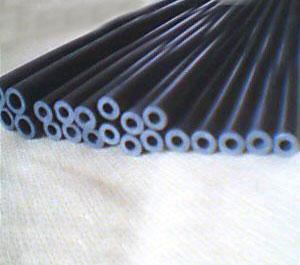 【Product Name】
Products > FRP pipes
Product Info :
Explanation:
FRP pipe (shaped material) is made by solidifying and continuous extrusion in the high-speed polymerizing device integrated with laser, electricity and heat after infusing fabric into resin. There are two types, common extrusion pipe and FRMP pipe classified in terms of molding technics; and there are two types, fiberglass pipe and carbon fiber pipe classified in terms of the category of fiber.
Characters:
l、good mechanical performance, high strength, lightness;
2、excellent insulated performance, antistatic, flame resistant;
3、strong corrosion resistance, especially that of carbon fiber pipe;
4、pressure resistant, heat resistant, prevent frostbite;
5、convenient to fix and use;
Application:
Chemical corrosion, petroleum, traveling, sport, military establishment, smelting, electric protection pipe, mechanical handle.